Make An Appointment With Fear
How you respond to it is how it responds to you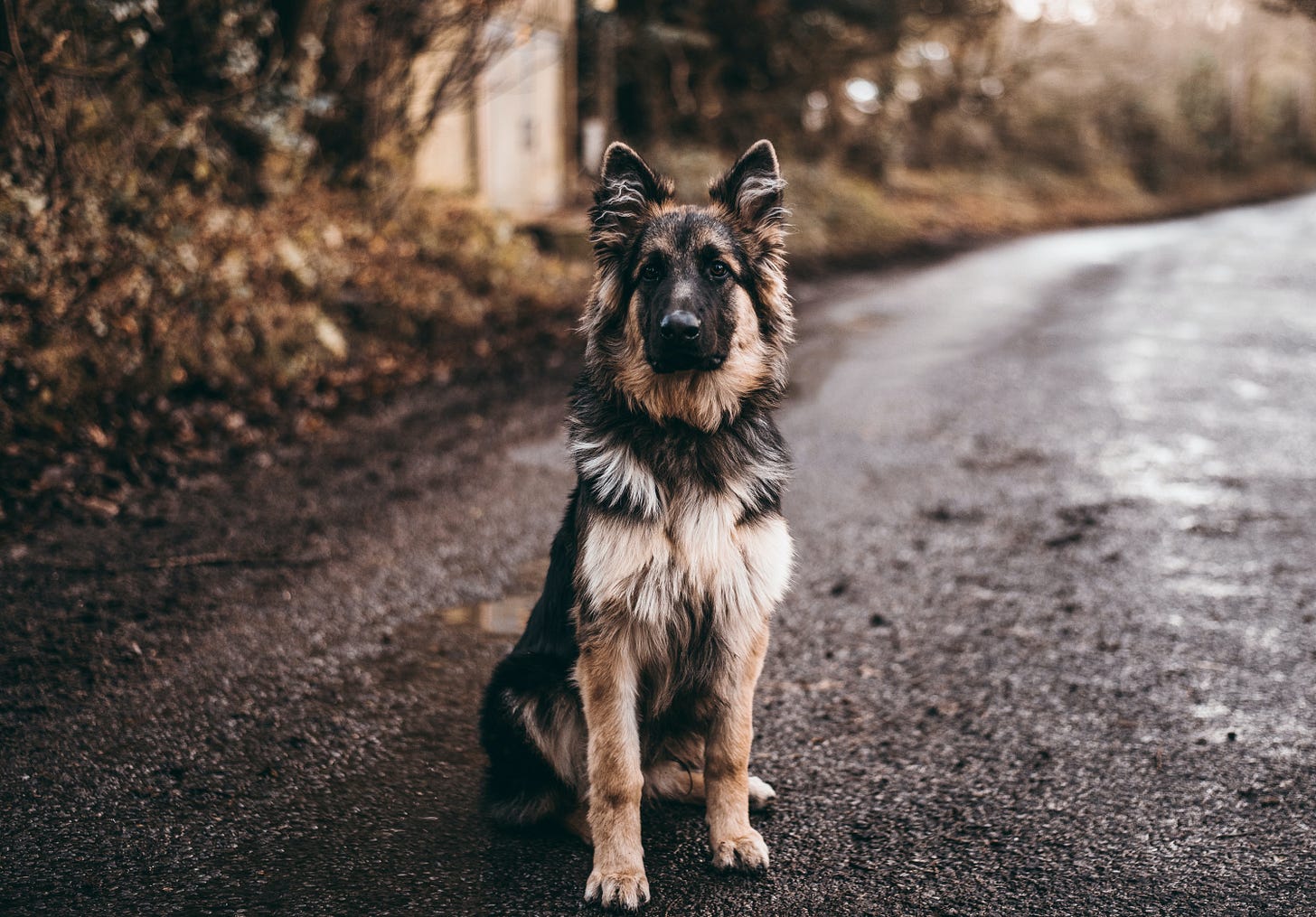 Q: Long before COVID-19, I'd been thinking about starting a new business, an academy of sorts. Designed to guide young people towards understanding the special gifts they carry—those behaviors and abilities youth dismiss because they don't yet understand them. At the academy, children would learn to channel their gifts and find their place in this world. I know, deep in my soul, that this is my next chapter. 
Yet I can feel the fear creeping in. Is this really the right time? Should I pursue this? Does it still make sense? What if I fail to make money at the levels I know I'm capable of? 
This fear grips me by the ankles like nothing before. It holds me in place and pulls me back to the comfortable and familiar. When I began my first consulting business in 2015, I was scared, but it also felt natural, and I felt ready and that I had no choice. I believe I am ready now too, but there it is again, that fear guarding the gates to my future.
A: Dear Gripped One - 
When I was little, I used to be deathly afraid of dogs. All dogs, all sizes, all the time. My sister nearly pees her pants as she recalls how I used to bark back at dogs (which I can vaguely recall, despite my best efforts to suppress those memories). I do vividly remember the planning it took, at about age 7 or 8, to walking blocks out of the way to avoid a certain "scary" barking dog near my elementary school. A dog that, thinking back, was maybe all of 18-inches-high.  
This is how most of us address fear, too.  We "bark back", trying to fight it. Or we go waaaaaay out of our way to avoid what fears us. Hence the classic "fight or flight" response. 
At one point, because my best friend Megan had a dog, she helped me get over this fear. It was either that or lose Megan. Hold your hand out, she said, to greet it. And just like that, I understood: how you respond to it is how it responds to you. 
Which explains how I came to find myself having a regular lunchtime Appointment with (the) Fear.  (The Fear or TF because then it looks like a normal appt.) I schedule it as often as I feel afraid. I get all my questions organized around things I'm afraid of. And then we "chat". Sometimes via a journal, and ofttimes out loud. (Word to the wise, do this on your own back porch, and not a public park.)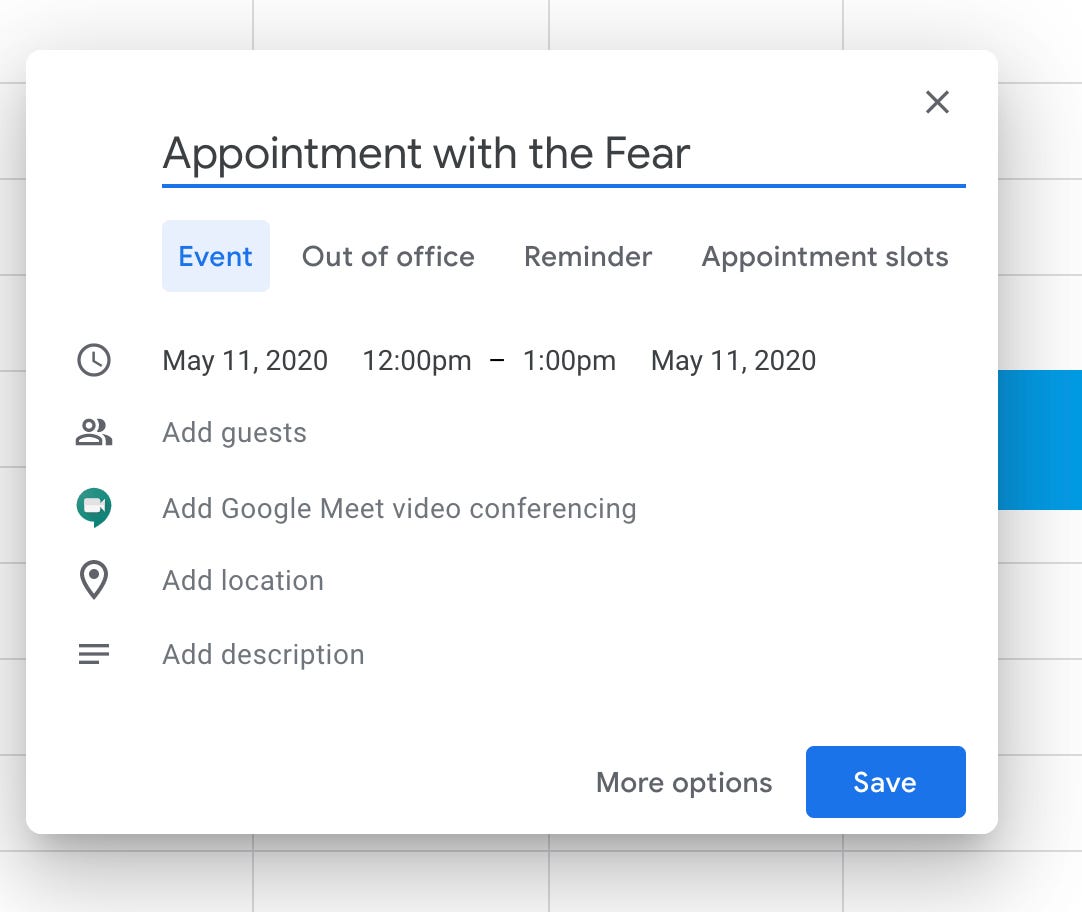 There are a few ground rules that Fear and I have negotiated over time – and maybe they'll be equally helpful to you. First, I need to be curious about what fear is aiming to tell me. I need to pay attention, to listen, to be open. When I soften up enough to hear it, I learn what I can address. 
Fear, in turn, has developed manners. It tends not to stop by late at night, interrupting needed sleep at 3:00 am. It has stopped being the scary movie soundtrack to my life. It no longer drains my creative energy, like a nefarious app running in the background without permission. 
When I ask Fear, "what concerns you?" it tells me right away and usually quite clearly. And Fear's advice helps me be better at my different pursuits.
So … Gripped One, let's greet Fear and ask: how does Fear want to help you?

- You asked, "should you pursue this" but maybe Fear isn't asking if you should pursue it, but rather, how.  What do you know about creating social interactions in physical spaces that need to be translated for today's (mostly) online life? Or, looking ahead to when things "open up," what will make people feel safe when we return to physical spaces? 
- You asked, "what if I pursue and fail?" What a good question... maybe Fear wants you to answer... What does happen, if you fail? Are there things you need to manage, so you're not reckless in how you manage your investment of time or money. Can it change how you get started? 
- You asked, "what if you don't make money at the levels you know you're capable of?" Maybe Fear wants you to ask yourself: If you went back to what you know is "safe," and you earned all the money you're fully capable of, would you regret not doing this thing? Or maybe Fear is asking, why you are so focused on the "value-capture" part of the equation, instead of the "value-creation" part? 
To ignore fear is to miss key signs and warnings. Fear helps us with many things, like rattlesnakes, or a sexual-harasser boss about to get us into a private hotel room, or a car just about to hit us. Fear serves. So the goal isn't to flee it or fight it, it but to greet it and live with it. 
Worth stating during a pandemic: We need to separate fear and anxiety. There are things we can manage. And there there is everything else. Many of us pay far too much attention to things unseen. It's our way of trying to control the uncontrollable. To the anxious brain, we must remind ourselves… we can't control what we can't control; we never can. Despite humans' strongest desire to "plan" and "strategize" and have hot takes without knowing the facts ...things have a way of unfolding in their own way. 
All we can each do is what only we can, onlyness. So, add the distinct value that only you can. Center on that work, because first and foremost, that's all that matters. Do it because, if you don't, this is your life you're wasting. 
We can't bark at fear, nor can we run from fear. Those ways keep us stuck. 
As you wrote, the way fear grips you is to hold you in place. But you want to bend your creative energy towards the future, and to have those ideas you think matter pull you forward. This is what creativity and ingenuity look like. And also, love. Fear tries to stop us, love tugs us forward. 
Reach out to Fear. Put your hand out and greet it. Let it nuzzle you back. And kiss your face.
You've done that once already. You said of that prior move, you felt you had "no choice." Which I think is the story we tell ourselves after we've done a really hard thing. 
Don't deny your own agency in what you faced; You've shown yourself you know how to face fear. It's not that you had no choice because you could have easily stayed where you were. It's more likely that you (and your people, because belonging precedes doing stuff) knew that the risk was somehow "worth it", that you needed to head into it. 
And of course, that's what fear is asking you: to hear the pitfalls so you can succeed not in spite of them, but because of them.